Guide to Understanding QuickBooks Simple Start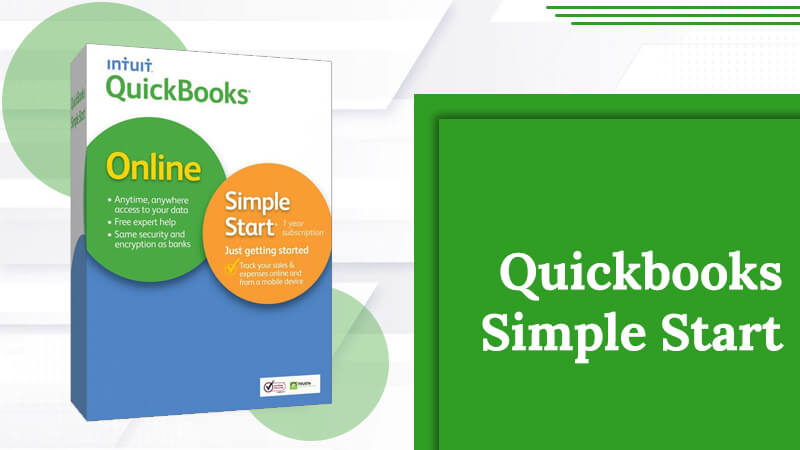 QuickBooks Simple Start is a basic bookkeeping solution by Intuit, ideal for anyone wanting to track and organize their transactions. It can download transactions from your bank account, which minimizes the time needed to keep your books updated. This solution is best for entrepreneurs, freelancers, and small businesses with a single user.
The software, one of the versions of QuickBooks  Online, lets you view your income, track expenditure, and know your business standing. You can use its 30-day free trial version to learn more about it and see if it works for you. Read on to learn the various features, pricing, and how to start using this solution.
What Is

QuickBooks Online Simple Start

?
QB Simple Start accounting software is an intuitive and beginner-friendly platform. It provides a range of features that are easy to understand and will not overwhelm the users. In case your business scales, you can move on to an advanced version of QuickBooks from Simple Start without using any data. 
The nature of this solution is such that it works well for simple businesses that do not need the recording and tracking of bills from vendors. It has the feature to download transactions from credit and bank cards. This, in turn, saves time in updating the books. 
Read about:-Setup QuickBooks Bank Feeds
Set up

QuickBooks Simple Start

Quickly
If you have a free trial version or purchase the solution, you must know how to set it up. This will make you start using its features easily. The process is very simple and needs you to follow only a few steps.
Open the program on your system. 

An interview pop-up box will arrive. Tap '

Next

.'

Now you may give in your company name and related data.

The solution will feature various options, such as Corporation, LLC, Sole Proprietorship, and the like.

Select your entity form.

Now, mention how you bill your customers.

After that, click '

Next

.'

Name your company file to complete the setup process.

Start using

QuickBooks Simple Start Online

now.
Read about:- QuickBooks Desktop to Online
Main Features of

QuickBooks Simple Start
This solution by Intuit offers numerous features that bring much convenience for those wanting to conduct basic bookkeeping. Here are the tools it gives you to manage your business.
Ability to sort transactions automatically from connected accounts into various categories of tax. This facilitates easy organization.

The invoice has credit cards and bank transfers, which lets you get paid fast. You can also customize your invoices according to your brand.

Use your phone to click pictures of receipts.

Simple Start QuickBooks

will categorize and align them to expenses.

The solution sorts your expenses into accurate tax categories. This feature lets you keep a major part of what you earn for yourself.

A new feature in the

QuickBooks Simple Start Desktop

and Online is to track miles. You can employ your mobile GPS and track the miles that you drive. It'll make it easy to categorize your business trips.

Through Simple Start, you can run and export your summary reports. These include reports like profit and loss. The dashboard is very easy to use.

Make highly professional-looking estimates and change them into invoices. 

The solution also lets you accept credit cards anywhere. It calculates sales tax automatically. 

QB Simple Start lets you manage and stay compliant on 1099s. You can manage and file them from the solution.
What Is the Price of

QuickBooks Simple Start

?
QB Online Simple Start has a price tag of $30. But it is often given at a discount of 50% for three months. That means you get it for $15 per month. You can also go in for the free trial version. It enables you to use the software for 30 days without any cost. We recommend you buy the software only from the official website to get an authentic solution.
The Difference Between

QuickBooks Simple Start

Online

and

QuickBooks Essentials

 
QB Simple Start and QuickBooks Essentials are two very similar versions. So those planning to invest in Simple Start are often confused about whether they should go for it or Essentials. Here are some crucial differences between both versions that'll guide you to make the right decision. 
Offerings – Simple Start and Essentials offer primary bookkeeping functionalities. However, with Essentials, you also get the feature to track inventory and dispatch invoices and estimates. 
The number of permitted users – Simple Start QuickBooks

only permits a single user. Contrarily, three users can work simultaneously in the Essentials version. 

Level of reporting – Simple Start gives the user access to basic reports. QB Essentials, on the other hand, has more in-depth financial reporting features. 
Cost – QB Online Essentials, priced at $55, is more expensive than QuickBooks Online Simple Start

, which is priced at $30. 

Level of customer support – The Essentials version provides priority support. It also has a live chat option. Simple Start only has basic customer support options. 
Final Thoughts 
QuickBooks Simple Start is a cost-effective accounting program for small-scale businesses that cannot invest in complex bookkeeping solutions. It offers the ability to organize and track credit card and bank transactions seamlessly. If you have any queries about its features or intended use, consult a QB technical expert. 
Frequently Asked Questions 
Q.
How is QuickBooks Online Simple Start different from QuickBooks Self-Employed?
A. The fundamental difference between Simple Start and Self-Employed versions of QuickBooks is that the former is for small business owners. It will be perfect for those who have a small set of vendors, inventory, and employees to manage. If you require the separation of your personal and business expenditure, use QB Self-Employed. It is best for independent contractors. 
Q.
Can I use QuickBooks if I am not a business owner?
A. You can use QuickBooks even if you don't have the business. The Home Accountant software from QB lets you track everything from your monthly expenses to taxes and rental income. You can also use it if you are running a business from your home. 
Q.
Can my accountant access QuickBooks Online Simple Start?
A. You can invite your accountant to access Simple Start QuickBooks. Tap the gear icon and choose 'Manage users.' Input the accountant's email ID in the 'Accounting Firms' tab. Tap 'Invite' followed by 'Save.'