QuickBooks Simple Start – Best Features and Price of the Software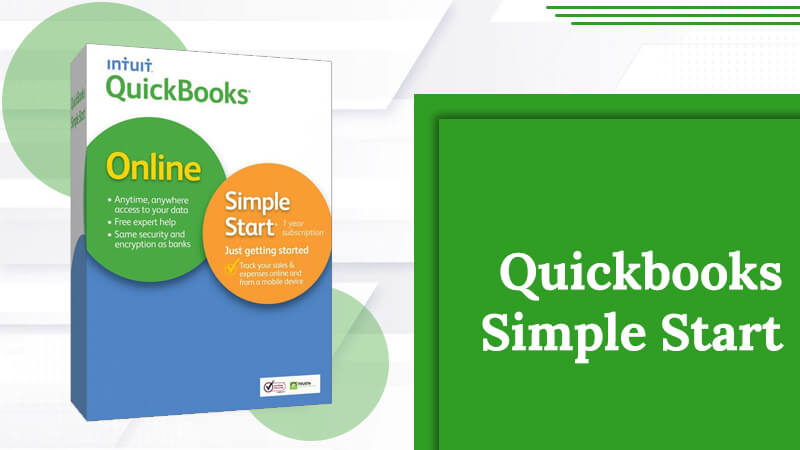 One of the biggest problems for small business owners is the challenge of managing their finances on the go. Accounting is significant, but manually doing it often proves ineffective. QuickBooks Simple Start is an application that you can use to manage your business from anywhere. You simply need to access your account on your device and be assured of getting free support, updates, and data backup. This application enables thousands of small businesses to conveniently organize their finances, maximize tax deductions, capture receipts, send estimates, and track sales. Moreover, there are also versions for iPad and iPhone available. In this article, you will find out about this application in detail.
Read about:-setup QuickBooks bank feeds
What Features Does QuickBooks Simple Start Offer?
A splendid thing about this tool is that everyone, from freelancers to individual contractors and small-scale businesses, can easily learn and use it. The tool offers many features without overwhelming you. They include the following.
Income and expense tracking – It's easy to track income and expenditure as the tool categorizes transactions from all connected accounts into tax categories automatically. It, in turn, facilitates smooth organization.
Organize receipts easily – With Simple Start QuickBooks, all you require to organize your receipts is just to capture their photos through your smartphone. The tool categorizes them and also aligns them to expenses.
Take advantage of tax deductions – Simple Start organizes your expenditure in the appropriate tax category on an automated basis. Thus, it enables you to make the maximum out of tax deductions.
Faster payment – The tool provides bank transfers and credit cards to the invoice. Thus, it enables you to receive payments quickly. You also have the option to personalize your invoice to make them more in line with your brand.
Create reports seamlessly – It is easy to run and export reports like that of profit and loss with the tool. It offers an intuitive dashboard that you can use to run all your reports.
Dispatch professional-looking estimates – Another great feature of QuickBooks Simple Start Online is that it allows you to make professional-looking estimates. Such professional-looking estimates easily turn into an invoice.
Monitor sales tax – The tool computes sales tax on an automated basis when you accept payments and credit cards. It's very easy to track sales and sales tax with this tool.
Read about:- QuickBooks desktop to online
Why Is QuickBooks Simple Start So Popular
QB Online Simple Start is quite popular among entrepreneurs and small business owners. It is mainly because it gives the features of the Self-Employed QuickBooks plan. But you also have the capability to set the Chart of Accounts. You can also invite two accounting firms to examine your books and produce reports to determine the status of your business. Setting up QuickBooks Simple Start Desktop is also very easy.
It has a setup guide and tools like the text that connect to frequently asked questions. You don't need to employ any other software while using the Simple Start program of QuickBooks. You can access your account from any online platform with an active internet connection. Additionally, it's possible to import customer data and contact information from applications like Gmail, MS Outlook, and MS Excel.
The Simple Start software gives you online access to the program from anywhere. You can import your credit card transactions into QB and reduce the time needed to record these expenditures and deposits. You can use the section with Quick Links to significant areas of the software, such as customer lists, expenses, invoices, banking, and reports.
Read about:- Quickbooks Migration tool
Key Managerial Features of QuickBooks Simple Start
The Simple Start program offers simple managerial features. You can do the following with it.
Create invoices for any kind of business. Even traditional retailers can create invoices that include sales tax. All you need is to input the name of your customer, the items you are invoicing, and a customized message. You can also monitor the cost or quantity of the item sold.
QuickBooks Simple Start gives you over 20 financial tax and sales reports. They include profit and loss, accounts receivables, and reconciliation reports. You can create custom reports by editing their templates.
It is also possible to create a vendor list in this tool. Here you can input bills as and when you get them. You can also make vendors on the go.
The Simple Start reconciles your account by reviewing every transaction. It ensures that the data aligns with the software. With it, you can also create and print checks in QuickBooks. You can also go through the histories of credit card and cash expenditures in every one of your accounts.
Read about :- QuickBooks File Doctor
What Is the Cost of QuickBooks Simple Start?
QuickBooks Simple Start Online is priced very competitively. Its cost is very nominal and much less than other QuickBooks products. This budget-friendly pricing is due to the nature and purpose of this software. It effectively caters to freelancers, small business owners, and entrepreneurs.
The solution comes at the cost of $25 per month. If you are unsure about using it, you can take advantage of the 30-day trial period. During this time, you can understand the features of the solution and then decide on using it. If you use the software, you can easily leverage limitless email and phone support between 6 AM to 6 PM PST.
You can also go through different forum categories that Intuit offers, such as Intuit Resources, Intuit Payroll, Intuit Products, and QuickBooks Tasks. All these categories prove helpful in enabling the user to understand the platform.
Can You Find Payroll in QB Simple Start?
Yes, this program has Quickbooks simple start payroll processing. You can easily compute and track payroll taxes. It is ideal if you are carrying out bookkeeping by yourself and don't require inventory accounting.
You can also take advantage of QuickBooks Live, an assisted bookkeeping service in Simple Start. Through it, you can get in touch with a certified bookkeeping expert, manage your finances, and reconcile accounts. Read about:- QuickBooks payroll issues
Final Thoughts
The QuickBooks simple start software enables you to access data on the go, on a computer, or on mobile. You can also share access with an accountant and leverage unlimited customer support. If you need more help with using and navigating the program, contact an expert QuickBooks support service.
FAQ
Q1:
What is QuickBooks Simple Start?
A. QuickBooks Simple Start is an entry-level accounting software solution designed for small businesses. It provides basic features such as invoicing, expense tracking, and creating reports. It is a more affordable option for small businesses that do not require all the features of the more advanced versions of QuickBooks.
Q2:
How do I get started with QuickBooks Simple Start?
A. To get started with QuickBooks Simple Start, you can purchase and download the software from the QuickBooks website. Once you have installed the software, you can begin setting up your company by entering basic information such as your business name, address, and tax ID number.
Q3:
Can I upgrade from QuickBooks Simple Start to a more advanced version?
A. Yes, you can upgrade from QuickBooks Simple Start to a more advanced version of QuickBooks, such as QuickBooks Pro or QuickBooks Premier. The upgrade process is simple and can be done within the software. Upgrading to a more advanced version will provide more features and functionality to help manage your business.
Q4:
Is QuickBooks Simple Start suitable for all types of businesses?
A. QuickBooks Simple Start is suitable for small businesses that require basic accounting features such as invoicing and expense tracking. However, suppose your business requires more advanced features such as inventory tracking, job costing, or purchase orders. In that case, you may consider upgrading to a more advanced version of QuickBooks, such as QuickBooks Pro or QuickBooks Premier.